Tinker Truck™
We are excited to offer Tinker Truck™ programs in the greater Waterloo Region! We offer many programs that integrate science, art and engineering. Designed around the school curriculum and developed to provide education through play.
L.E.D. Artwork 💡
Let us light up your night! These quick and easy necklaces are always a huge hit at any event we visit. As a quick "make and take" this project can be completed in 20 minutes as a craft or preceded by a lesson in electricity, optical properties of glass and plastic and the differences between normal and UV (black) light on different pigments. The expanded, hands-on experimental science lesson is approximately 75 minutes. Fantastic for evening events!
Raging River 🌊
The Ultimate Water Table! Our portable river is the ultimate water table. Kids as young as two love playing with the river and designing boats out of popsicle sticks, corks, and elastic bands and then sending them down the river. As an educational experience, we offer children various challenges ranging from getting a toy animal down the river safe and dry to building stable boats with fewer and fewer numbers of pieces. 
This project is ideal for large events as it can handle 70 kids per hour without lineups.
Balloons
Experience the magic of a balloon transformed into anything imaginable! Just like a magician, be blown away by what can be achieved. This skilled team competes, builds and instructs internationally.
Decor & Speciality Sculpture 🦙
Memorable balloon decorations and art installations designed to make a solid impact to any visitor.  As part of a professional international balloon twisting team, we can create high impact technical sculptures as wild as the mind can imagine.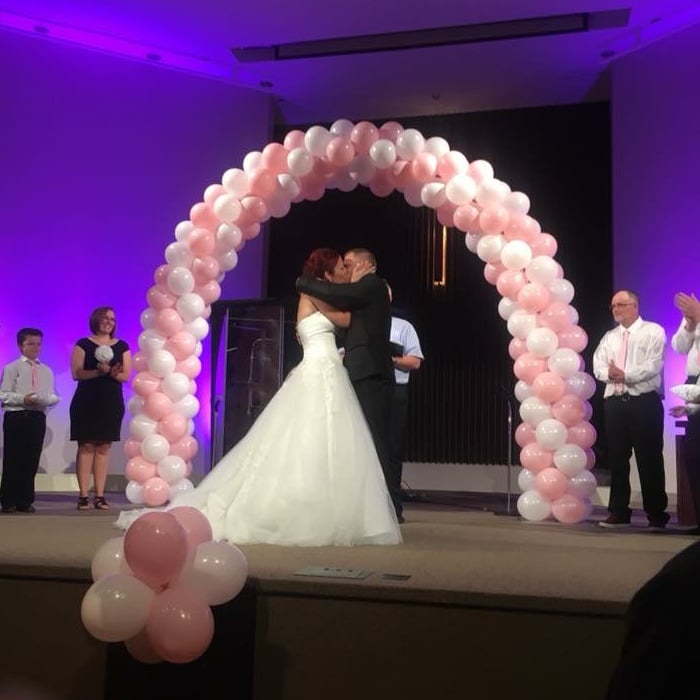 Stilts, Characters & More
Gertrude the Giant Gentle Ostrich 🐦
Unique Stilt walking characters add a splash to any event. Meet the ultimate in roving crowd entertainment; Gertrude the Giant Gentle Ostrich. She is a one of a kind animatronic crowd pleaser, designed to create a sense of wonder for  kids of all ages as well as boost social media attention. Strolling in at over 9 feet tall, Gertrude the Great and her trainer Drew Ripley will delight audiences young and old. Gracefully striding, guests will be astonished to meet a giant balloon puppet.  Animated to be slightly mischievous, yet always gentle with guests, watch Gertrude as she plays with a crowd.  
Minibikes & Stilts 🚲
Street level performance is always a favourite for guests. More than just children's entertainment, Drew's artistic ability spans to customized props, amusing illusions and even a custom made bicycle that's only 12 inches long.  On the street, or at a tradeshow, performances can be customized to capture the attention beyond the core audience.
Balloon Puppets & Costumes 🌽
Show stopping, eye popping, and jaw dropping, these customized costumes and articulated puppets make a powerful lasting impression on guests. As a professional trained stunt artist, unicyclist and stilt walker, Drew takes any imaginative character and build the impossible into the ultimate interactive balloon creature.
Major Installations 🎈
The ultimate in jaw-dropping high impact and animated installations created for explosive marketing and social media campaigns. As part of a professional international balloon twisting team, we create high impact technical sculptures as wild as the mind can imagine. These projects get attention!
Check out our live shows…
Each time Drew is asked to participate in our events, he gives ofhimself tirelessly. Always energetic and animated in large or smallgroups of children. Drew can be counted on to provide creativityand enthusiasm to everything he touches.